iPhone Health (Apple Health)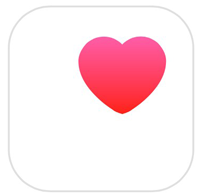 The link between Apple Health and Selfcare is established in the Selfcare app:
Download the

Selfcare-app ()

and log in with your Selfcare-account.

Click on the three horizontal dashes

(),

on the top left of your screen.

Click on 'Apple Health'
Afterwards, click on the plus (+) sign next to for example 'Stappen' ().

By doing so, 'Steps' automatically moves up to the section 'Paired sensors'.

Allow Selfcare access to your

preferred

data.

Scroll down and click on 'synchroniseer gegevens'. Now all available data (of the selected measurement type) is directly synchronised with Selfcare.

Repeat step 6 on daily basis in order to receive the most current information.
---
Dubbelcheck: you are supposed to see the measured values on your dashboard. If that's not the case, check Apple Health to see if the authorisation has been successful.
Open Apple Health and click on the preferred section - in this example: 'Activity'

Click on 'steps' (for this example)

Click on 'data sources and access'

Go to 'Apps allowed to read data' and check whether Selfcare is allowed to read data. Make sure that the button is moved to the right and the background is coloured green. Now the authorisation has been successful and the measured data are sent to Selfcare.